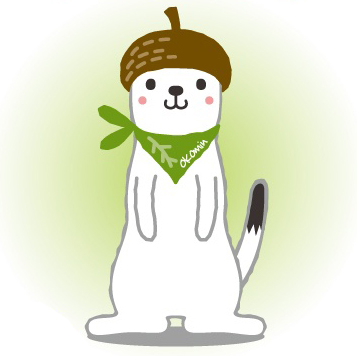 Okomin's Profile
Birthplace

Shiga Kogen
Favourite Foods

Mushrooms, Beer
Sex

?
Special Skills

Skiing, Snowboarding,
Hide and Seek in the snow,
Making people it meets happy.
Character

Loves having fun,
doing interesting things
Strong Points

Exceptional reflexes and nimble.
Age

?
Weak Points

Short-tempered,
weakness for tasty food, elusive
Other Names

The Fairy of Shiga Kogen
Characteristics

During winter,
its fur becomes as white as
snow letting it blend in with the slopes
Meaning behind Okomin's name
In Japanese, an Ermine (or Stoat) is called Okojo.
Therefore mixing the names together you get Okomin!
Okomin Related Goods and Services
News from Okomin
Okomin finally appeared on Wikipedia!
Okomin Youtube playlist has been created☆