Learn to Ski in Japan, or Just Play in the Snow, at Shiga Kogen
Shiga Kogen Ski Resort in Nagano, Japan is a favorite among Japanese ski lovers, but you don't need to be a pro to enjoy the fluffy Japan Powder snow and beautiful mountains!
The Charms of Skiing in Shiga Kogen Ski Resort (志賀高原スキー場), Inside a National Park
Topping out at elevations over 2,000 meters (over 7,000 ft), Shiga Kogen (also known as the Shiga Highlands) is a beautiful, mountainous region in the middle of Joshin'etsu-kogen National Park. Among the mountains known as the Japanese Alps, evergreen trees and magnificent blankets of white, fluffy snow mean the view is always fabulous in every direction, all year-round. But of course that snow isn't just beautiful. The high snow quality at Shiga Kogen is legendary, and the high altitude means heavy snowfall late into spring, making for a surprisingly long ski season. It's no wonder people call Shiga Kogen Ski Resort one of the best-kept secrets of Japan's ski lovers.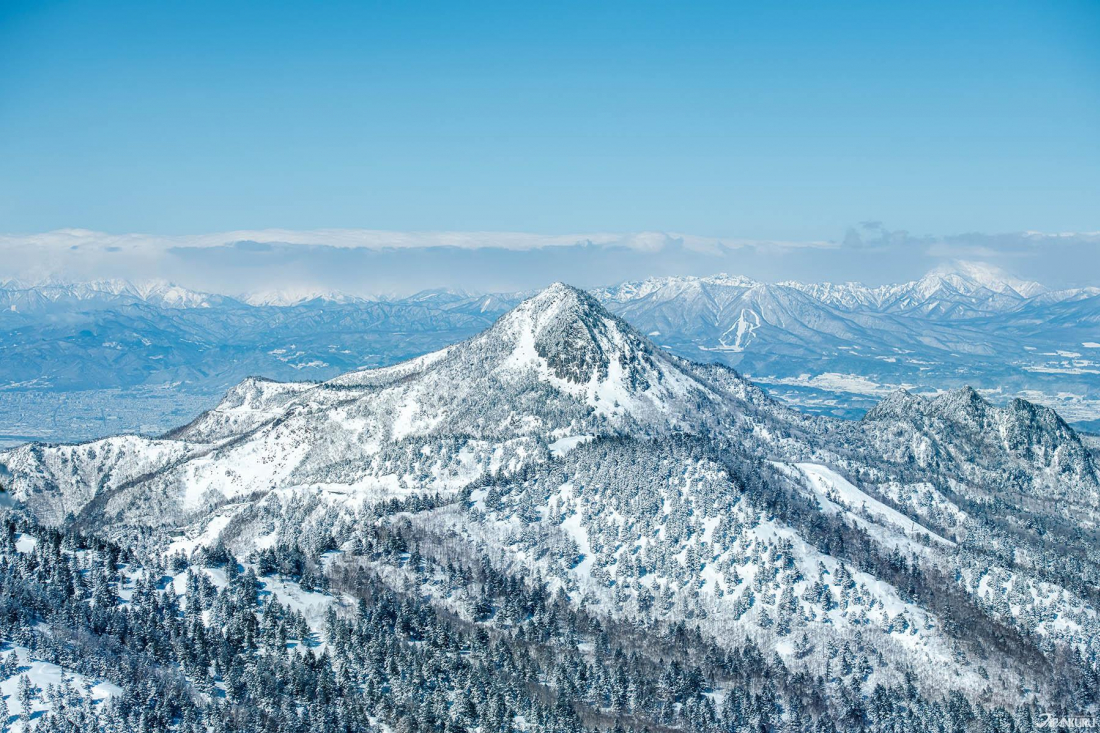 Not only is Shiga Kogen arguably home to Japan's highest official ski run (on Yokoteyama mountain), but it's also quite possibly the largest winter ski resort in Japan. The total area of 400 hectares includes 18 different ski areas, perfect for everyone from total novices to old pros. No matter their starting level, every skier is likely to find trails they love, and some good challenges. And to keep the large number of ski areas from getting inconvenient, Shiga Kogen has a free shuttle bus to get visitors from place to place, and ski lift passes that grant automatic access to every lift and cable car. Plus, take another bus just a short drive away from the ski area, and travelers will be delighted to find Jigokudani Monkey Park, home to Japan's famous onsen (温泉, hot spring) loving snow monkeys!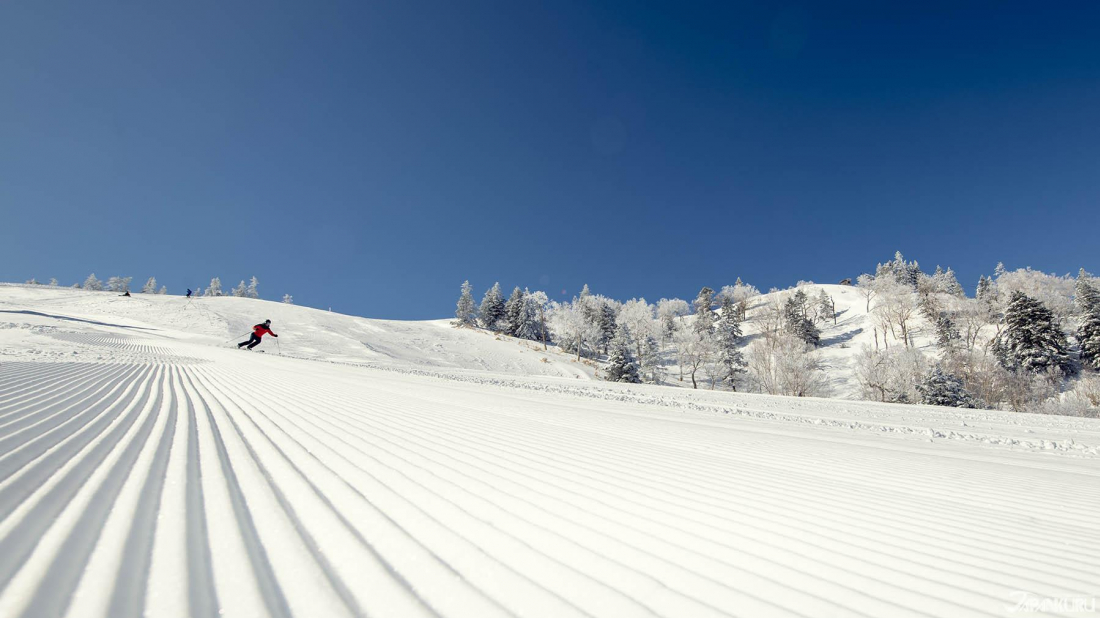 Also, did you know that Shiga Kogen was the location of some of the ski events during the 1998 Winter Olympics in Nagano! The ski resort has a long history of attracting winter-lovers, including both the best skiers in the world, and total beginners just excited to learn!
How to Get the Most Out of Shiga Kogen
① Ski Lessons & Beginner Skiing
Never seen a pair of skis in person before? No worries! We recommend you start your trip with a basic beginner ski lesson! At Shiga Kogen you'll find lessons of varying levels taught by profession teachers – everyone from little kids and families to skiers with experience can learn a thing or two. And the lessons are available in a variety of languages.
As a bunch of total rookies, the Japankuru ski team took a lesson in English, a 2-hour class for up to 9 people (5,700 yen in March 2020). None of us had any real experience skiing, and some of our team were putting on skis for the first time ever. Fortunately, though, we were all able to learn a little bit of basic technique, including how to slow down and (most importantly) stop! While the learning process included a few falls directly into the snow from those of us with less-than-perfect balance, the fresh new snowfall from the night before was unbelievably fluffy and soft, making the experience pretty pain-free! We were able to topple over without worrying too much. And once we had the basics down, our teacher took us up the mountain to coach us along an easier ski trail! By the end of the lesson, we all felt like we started to understand the joy of skiing.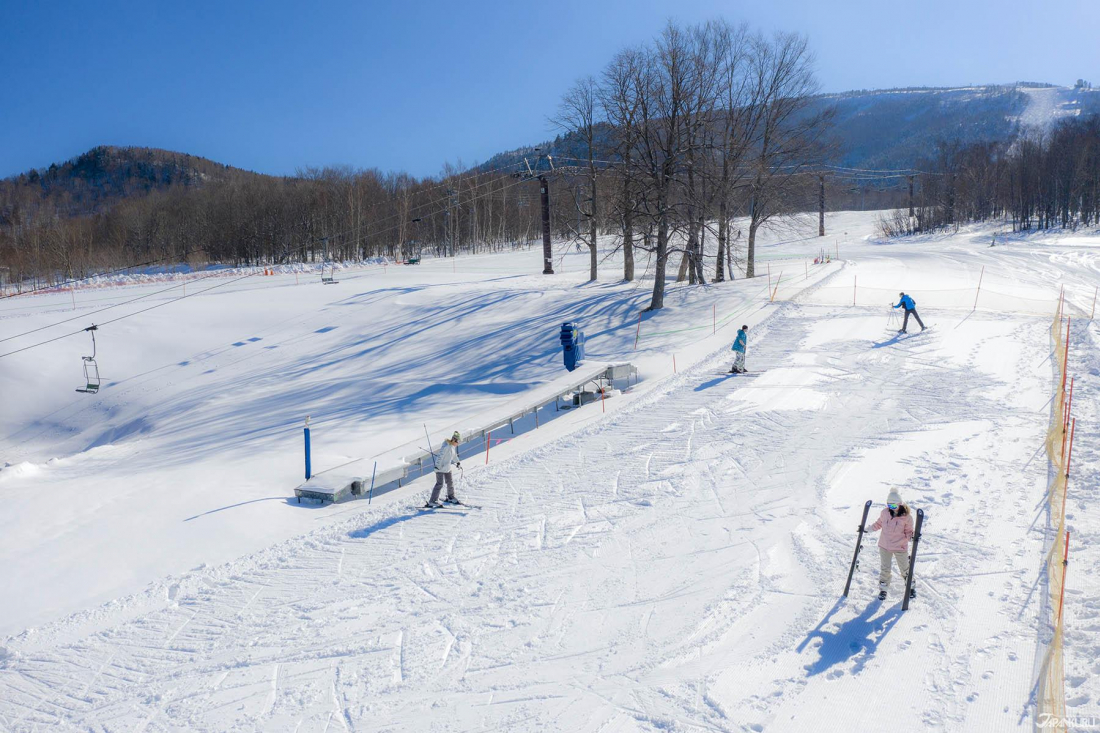 ② Snowshoes & Tea Time with a Mountaintop View
Skiing isn't the only way to have fun at Shiga Kogen! During the winter there are a variety of snowshoe hiking trips available throughout the many mountains of Shiga Kogen, and trips ranging from three to five hours. Sign up for a snow hike and you'll be provided with snowshoes and poles, a little like ski poles, and a professional guide who will take you up the mountain. Not only can the guide point out tons of beautiful easy-to-miss parts of the mountainside hikes, but they also bring hot tea to enjoy when you reach the peak of your trip. (Some hikes even include lunch, too.) If you're interested, you can check out what tours they offer and make reservations here.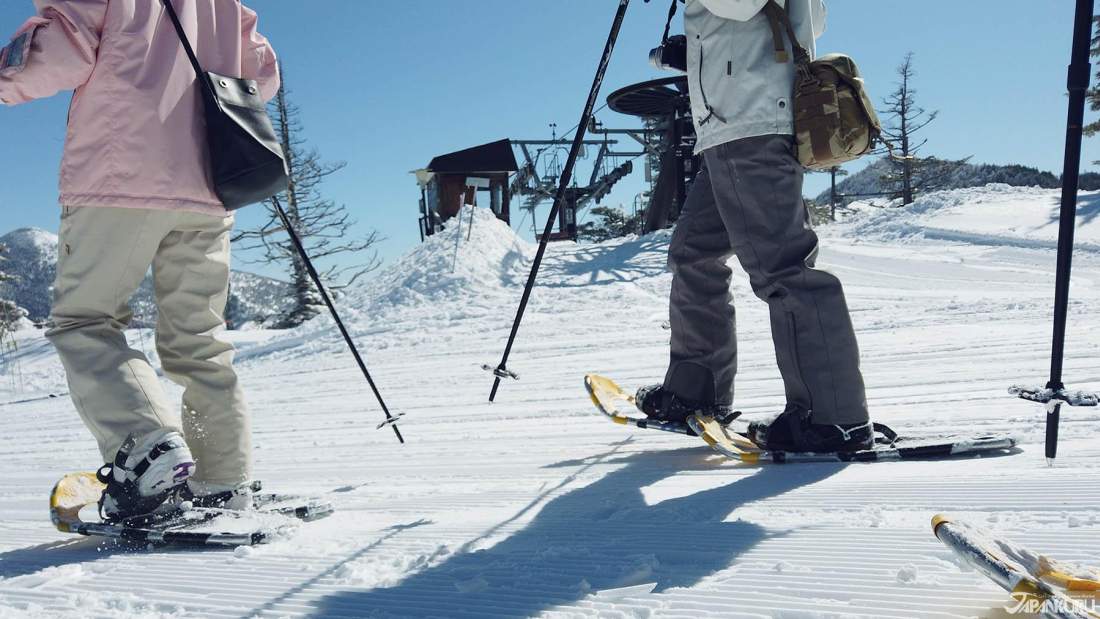 The Japankuru team embarked on a trip up Mount Higashidate (東館山), looking up towards the Terakoya ski area, which started with a trip up a cable car they told us was almost 100 years old! Even before the hike began, we had an amazing view of the surrounding mountains, as the cable car speedily took us up to 2000 meters above sea level. If you follow our lead embarking on the same snowshow hike, and you want to see one of the ski trails actually used during the 1998 Nagano Olympics, you can get a good view from the terrace on the second floor of the cable car building.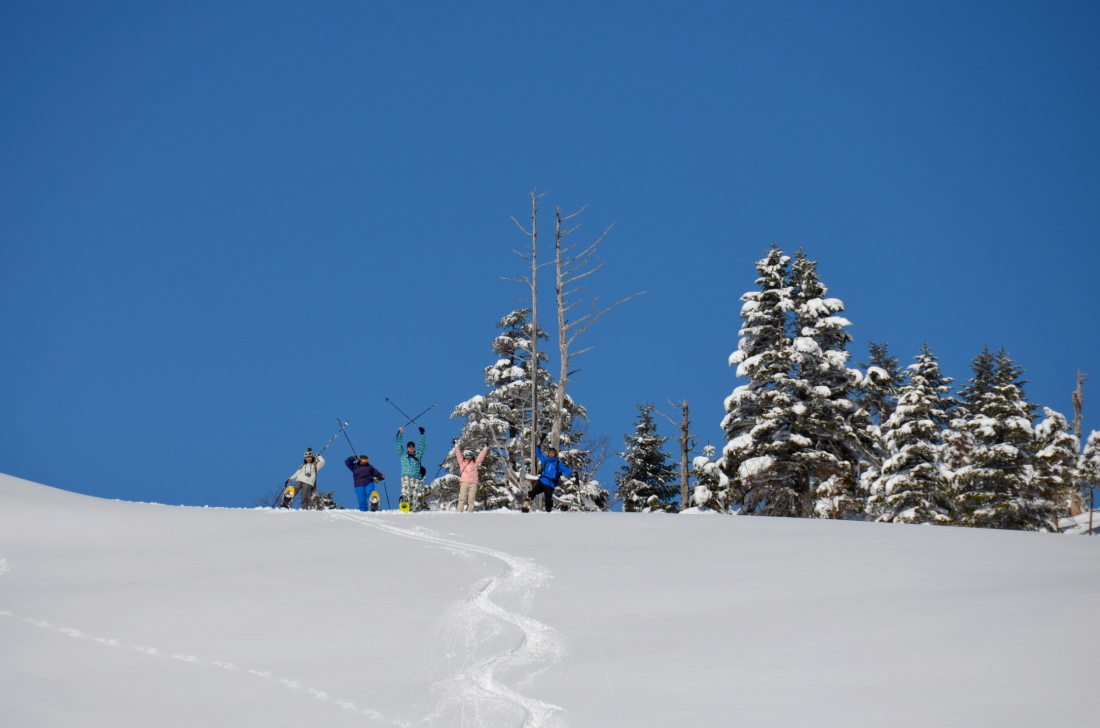 Once we started the hike, not only did we get to easily climb through snow that otherwise would have come up to our thighs, but our guide told us tons of interesting things about the local wildlife, plants we could see along the path, and cool facts about the snow. At the high point of our snowshow walk we took a break, right there in the snow, sipping hot tea and nibbling on cookies before making snow angels – all while surrounded by majestic mountain views.

③ Kids' Parks, Where Snow Lovers of All Ages Can Play
These little areas dotted around the ski resort might be called kids' parks, but if you love to play in the snow, it doesn't matter how old you are – you should definitely stop by! They've got tools of all kinds to make playing in the snow just about as fun as it can be, and if you grew up in an area with snow days, you'll quickly be transported back to your childhood. Hop on a sled and slide down the hill, or try tubes and snow bikes! Start a little snowball fight! Skiing at Shiga Kogen is amazing, but there are lots of ways to enjoy the snow while you're there.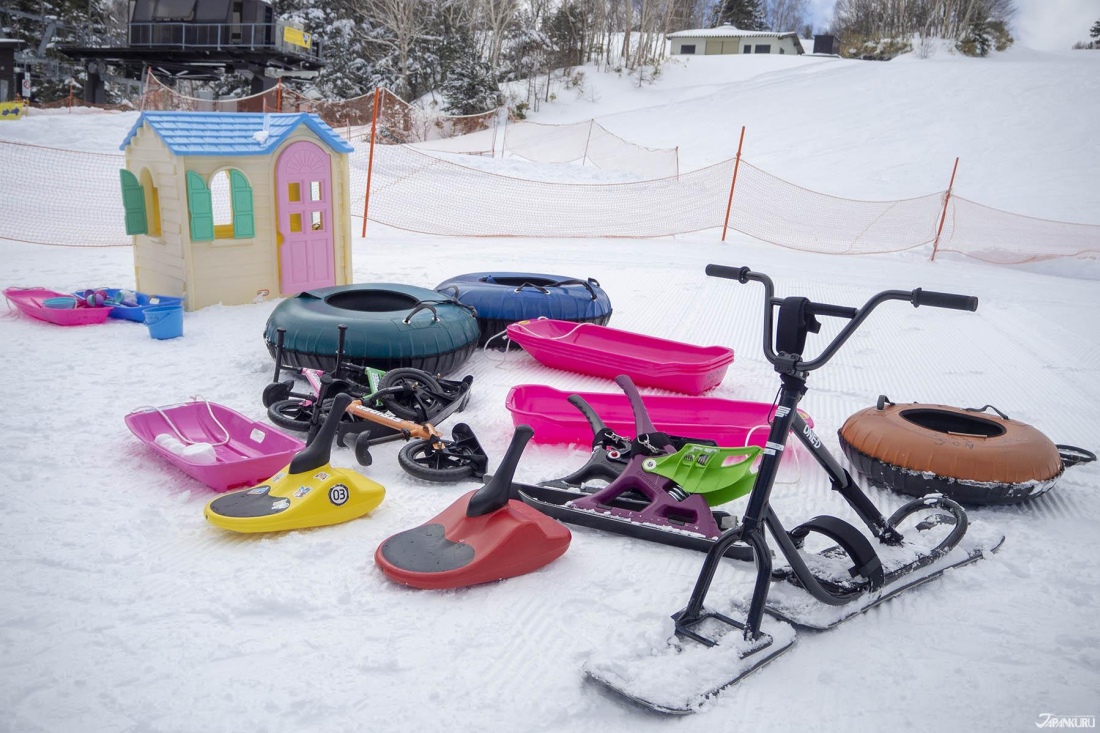 Each of the several kids' areas is a little bit different, but the Japankuru team visited one at Ichinose Diamond Ski Resort, where we could watch people skiing and snowboarding down the mountain, while we played to our hearts' content.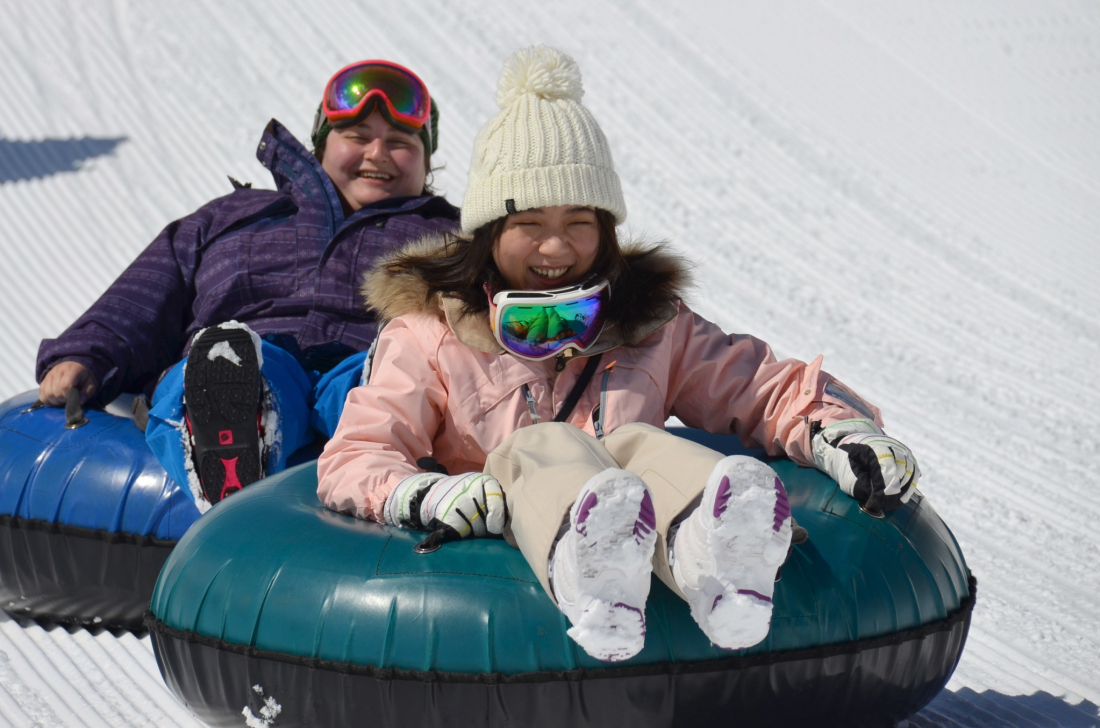 ④ Onsen (Hot Springs) in the Snow
If your muscles are tired from a few days of skiing and climbing through huge piles of snow, then a visit to a local onsen (温泉, hot spring) is just the thing! Lots of travelers might adopt the Japanese tradition of bathing right before bed, but with this particular bath, you don't want to miss the daytime scenery!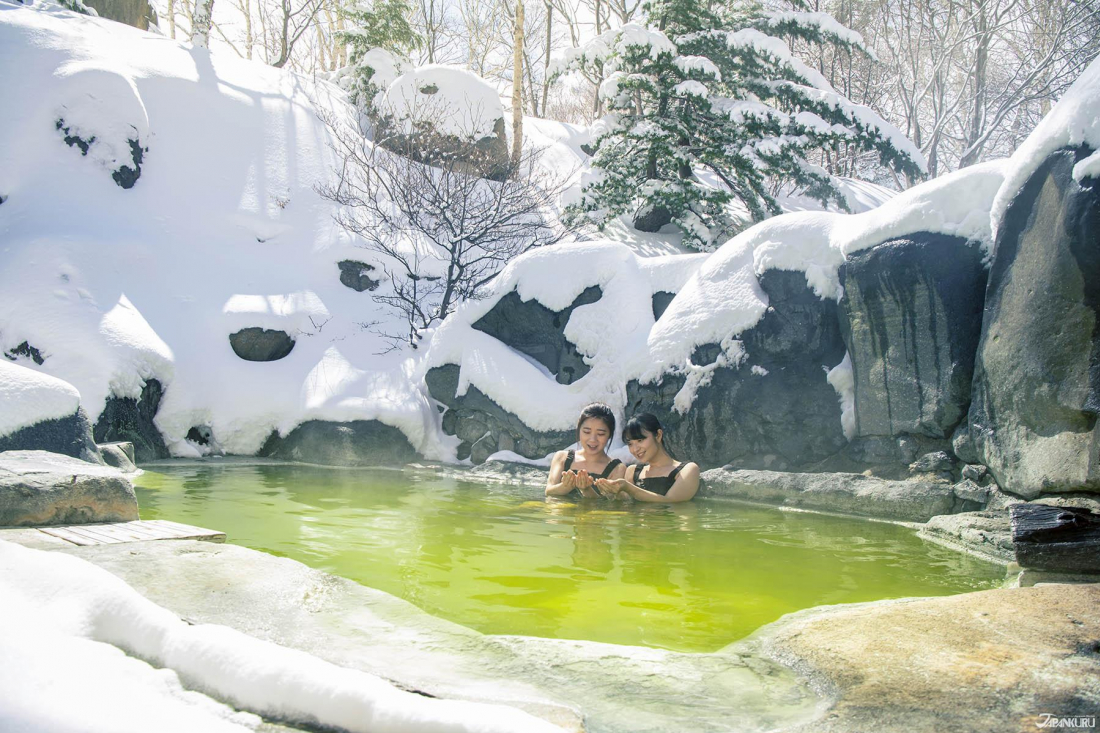 Kumanoyu Onsen (熊の湯) has a history of 170 years, and is known for its distinct emerald-colored water, which is beautiful both indoors and out. But the ideal experience is to visit the outdoor bath, where snow piles on the rocks and boulders surrounding the steaming pool of greenish waters. Visitors who aren't quite used to the tradition of bathing naked with others will also be relieved – Kumanoyu offers little dress-style towels that you're free to wear into the water. Enjoy the spectacular bathtime view without a speck of anxiety.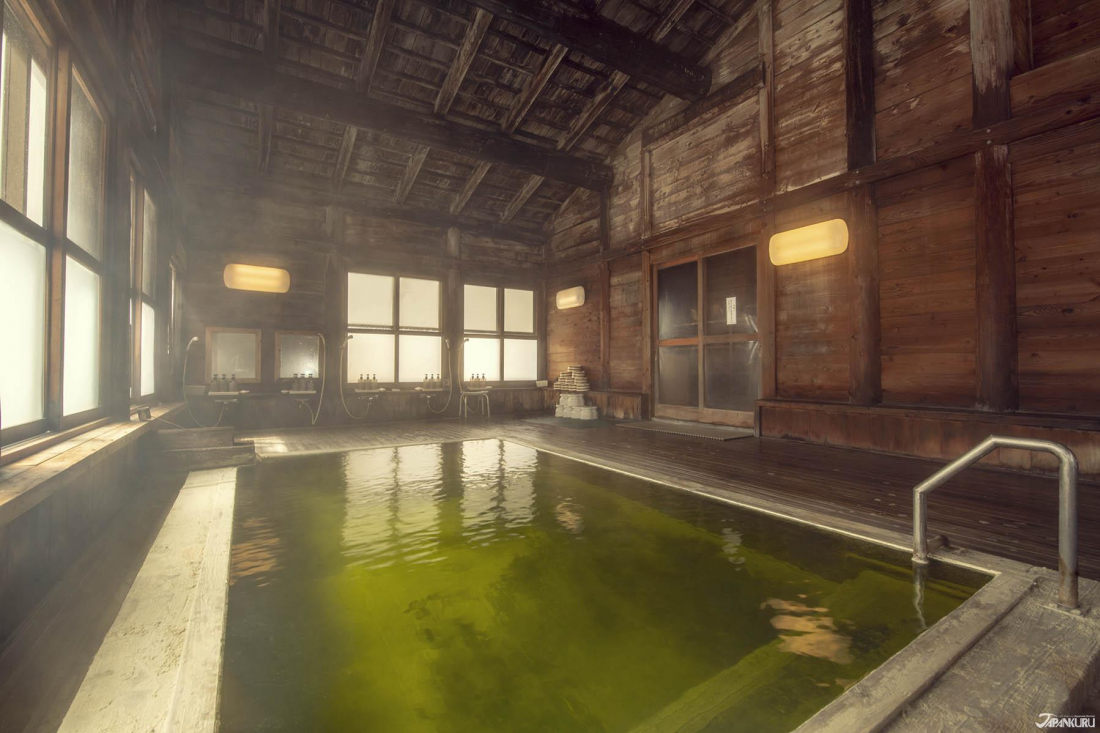 Kumanoyu Onsen (熊の湯温泉)
Kumanoyu Hotel, 7148 Hirao, Yamanochi, Shimotakai District, Nagano​
Official Website (en)
What's the Plan After Sundown?
Night Skiing
Of course, you don't have to stop skiing just because the sun goes down! Quite a few slopes stay open at night, well lit for safety, but dark enough for a touch of romance. It's a totally different atmosphere to ski at night, gliding through the snowy shadows.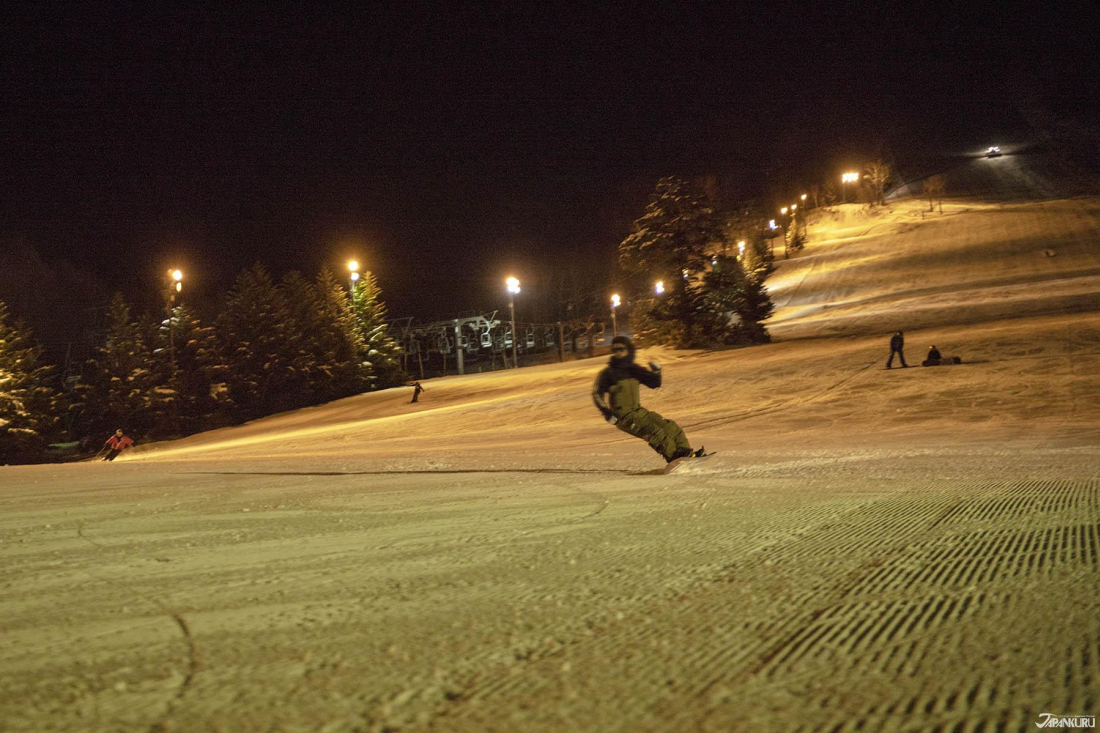 Grab a Beer at Teppa Room
Drawing up a must-do checklist for when you visit Shiga Kogen? Don't forget to add Shiga Kogen Beer! (That's right, there's a local beer, too!) In the Ichinose area you'll find Teppa Room, a pub with just about every variety of Shiga Kogen beer on tap, giving brew lovers a few different options.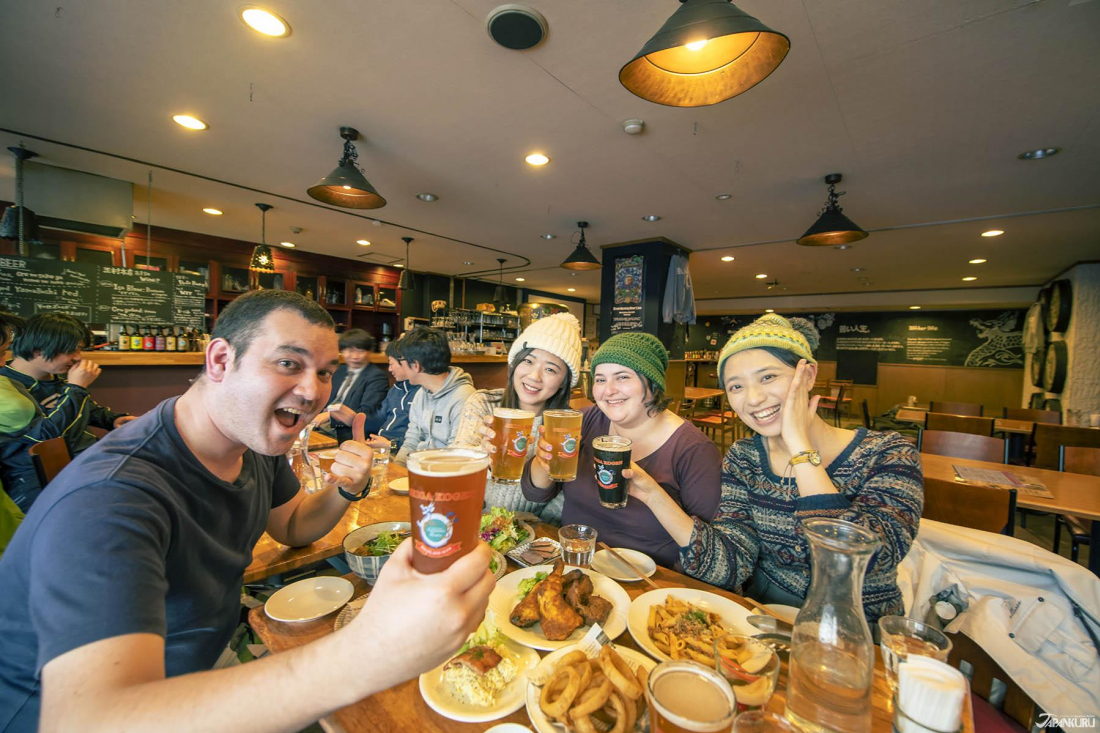 The Japankuru team also pigged out, and really enjoyed all the food we tried there! Deliciously crunchy fried Japanese karaage chicken, cucumbers and miso dip, salads, pasta, onion rings, smoked duck!? There were too many good options.
Teppa Room
1163 Hirao, Yamanouchi-machi, Shimotakai-gun
Official Website (jp) / Official Facebook
Stargazing in the Mountains
So high up and close to the sky, surrounded by dark, quiet mountains, it's no surprise the night sky at Shiga Kogen is full of beautiful stars. The photo below shows only a fraction of the brilliance we saw with our eyes, as we stood picking out our favorite constellations, and some new ones.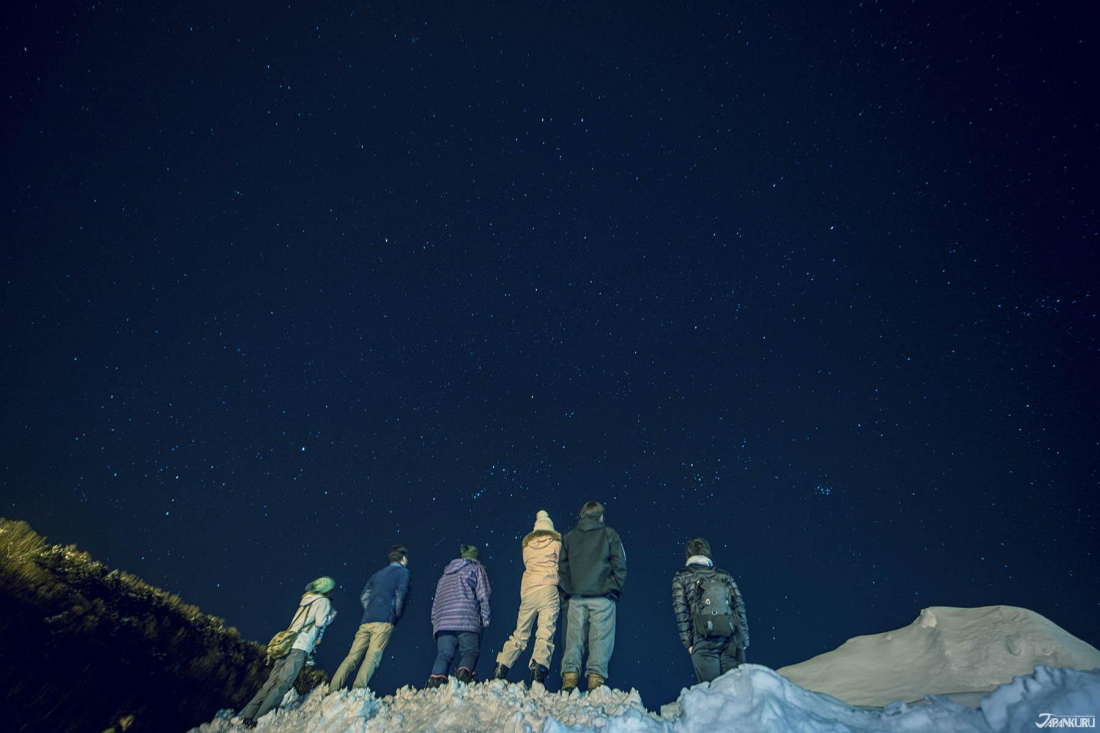 Let's Get Practical – Planning a Trip to Shiga Kogen
Gear – Renting Skis & Everything Else You Need
Unless you're bringing your own gear with you, you'll need to outfit yourself with everything you need before you ever hop on a ski lift! Fortunately this is pretty easy in Shiga Kogen, with everywhere from hotels, to ski schools, and of course ski rental stores offering equipment in all sizes. Some places even let you rent cameras like GoPros along with your more practical gear!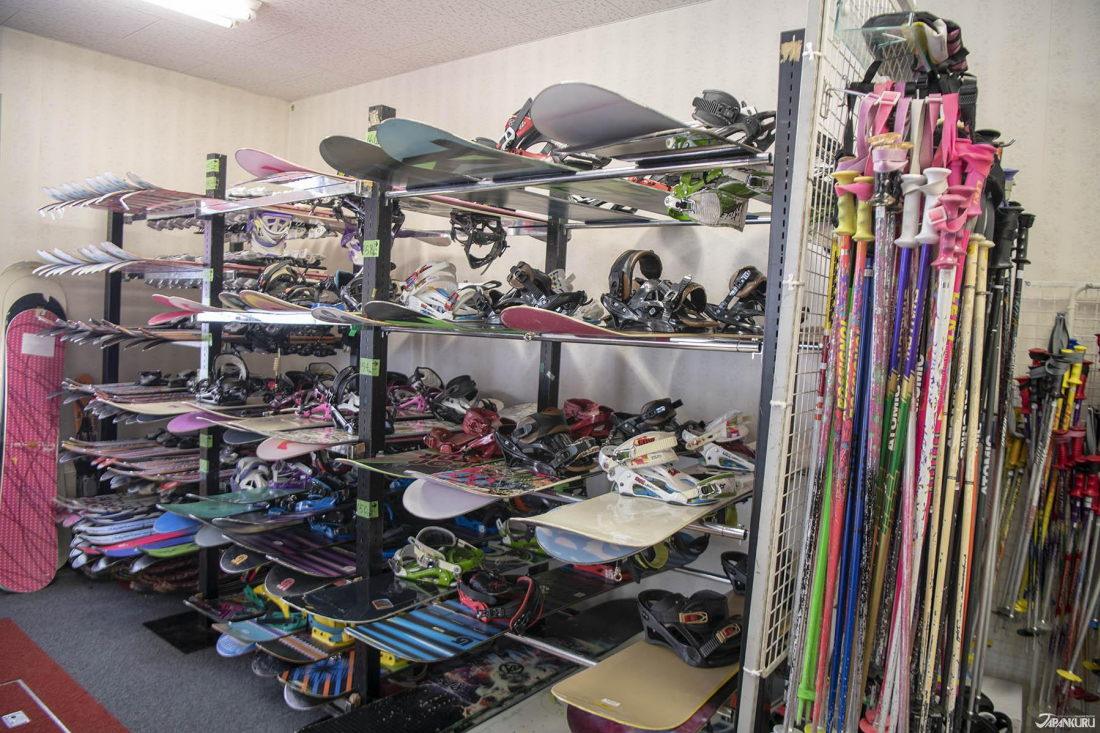 The Japankuru team picked up everything we needed from a store called SNOWCAN in the Ichinose area. We rented ski boots and skis, snowboard boots and snowboards, poles, snow pants, heavy jackets, goggles, even hats!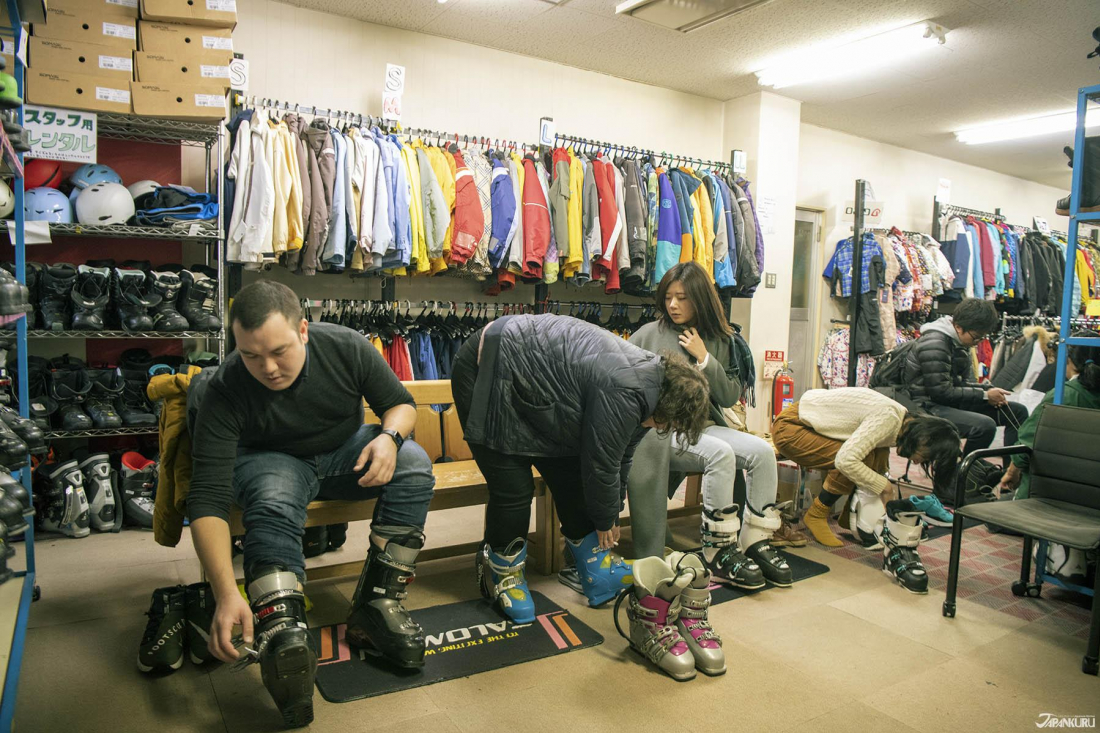 SNOWCAN Ichinose Diamond Shop
Hirao, Yamanochi, Shimotakai District, Nagano
Official Website (jp)
Food – Brick Oven Pizza & High-End Hotel Food
While we already mentioned the great pub cuisine of Teppa Room, we've got some other suggestions for lunch! One of those is the brick oven pizza baked up at Shiga Riverside Hotel, which include both classics like margherita pizza, and Nagano specialties like a dessert pizza complete with local Nagano apples.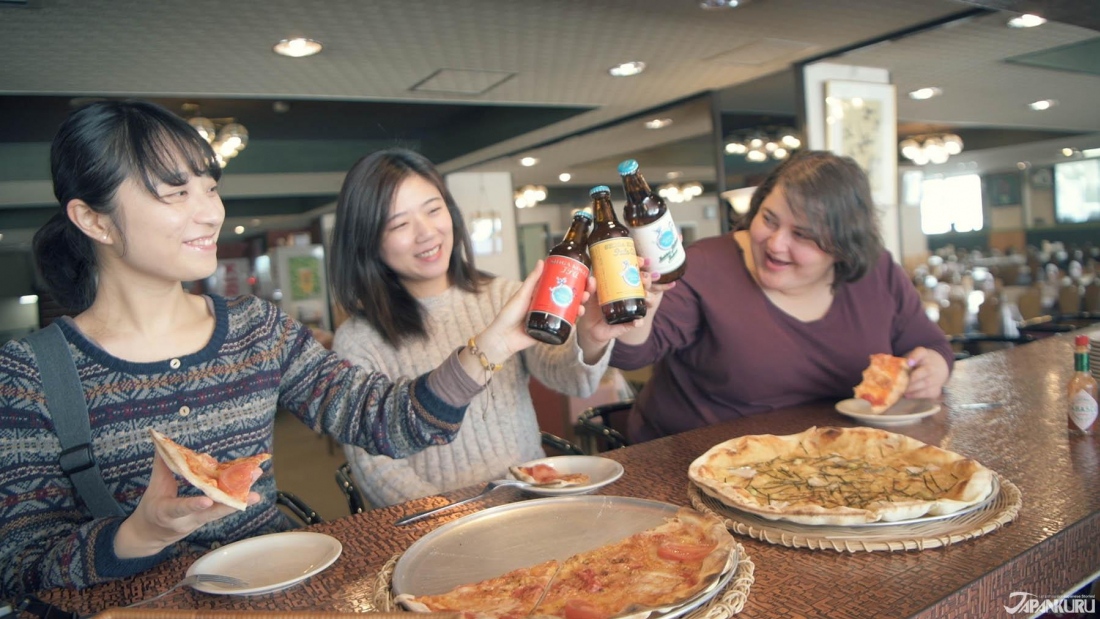 Shiga Riverside Hotel
Shiga Kogen Kumanoyu Hotaru Onsen, Hirao, Yamanochi, Shimotakai District, Nagano
Official Website (jp) / Pizza
For a more upscale lunch, in an elegant Alpine resort-style hotel, we recommend one of the restaurants in the Grand Phenix Hotel. The beef tongue stew and steak with black pepper sauce are particular favorites, and a look out the window while you eat will grant you a view of the mountains.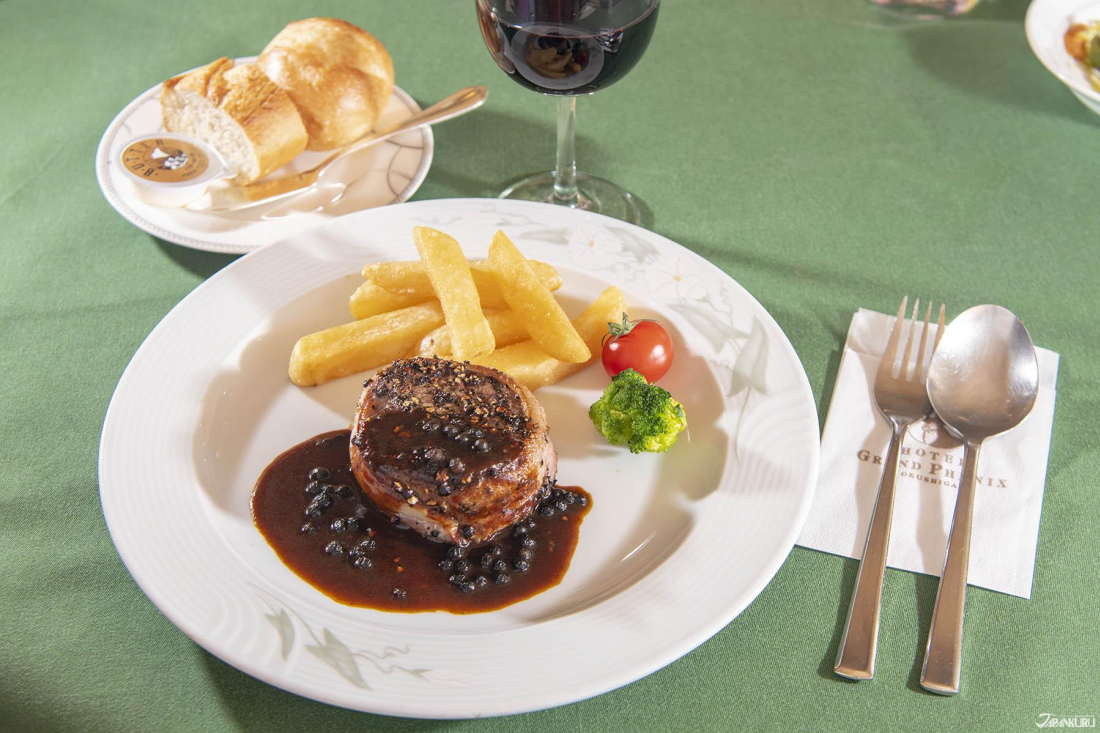 Hotel Grand Phenix
Okushiga-Kogen, Yamanouchi-machi, Shimotakai, Nagano
Official Website (en)
Accommodations – 16 Different Hotel Options
Alongside 18 different ski areas, the size of the Shiga Kogen Ski Resort area means there's enough room for 16 hotels, giving travelers lots of options! And there are lots of deciding factors for where you might want to stay. Some hotels are particularly famous for their amazing onsen, like the Kumanoyu Hotel where we found Kumanoyu Onsen, drawing hot springs lovers. Location can also be a deciding factor; stay in the Ichinose area and you can drink long past sunset at the Teppa Room without having to worry about the last shuttle bus. Grand Phenix Hotel is known for lovely European-style architecture and delicious European food, but hotels like Shiga Sunvalley Hotel have Japanese-style suites with tatami floors, and traditional multi-course meals of Japanese cuisine.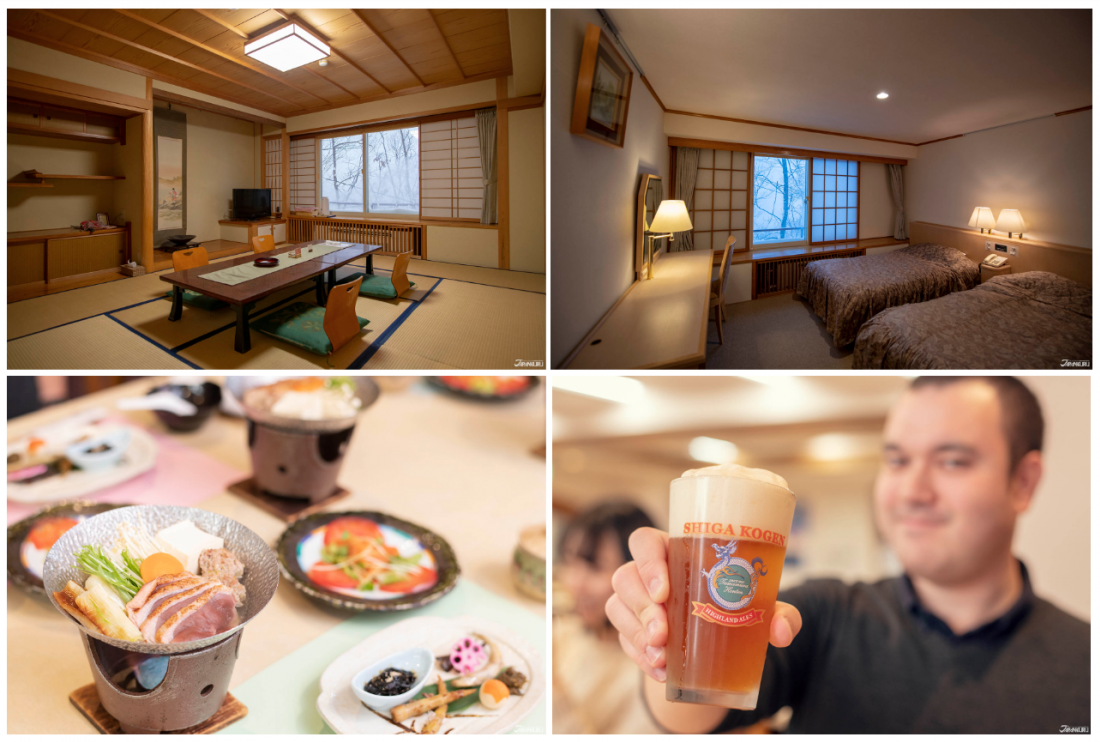 Hotel Shiga Sunvalley
7148 Hirao, Yamanochi, Shimotakai District, Nagano
Official Website (jp)
Transportation – Shuttle Buses & Ski Passes
While you could certainly rent a car to get to Shiga Kogen and move around the area, you'll find that it's totally unnecessary when you get there, so why risk driving yourself in heavy snow? You might not expect it in the middle of the mountains, but Shiga Kogen has a functional shuttle bus system, which is free to use between 8:30 and 17:00 every day. Then, with just one ski pass card, you can touch it to a reader on any of the cable cars or ski lifts, and waltz on through! You'll be getting from your hotel to the mountaintop in no time.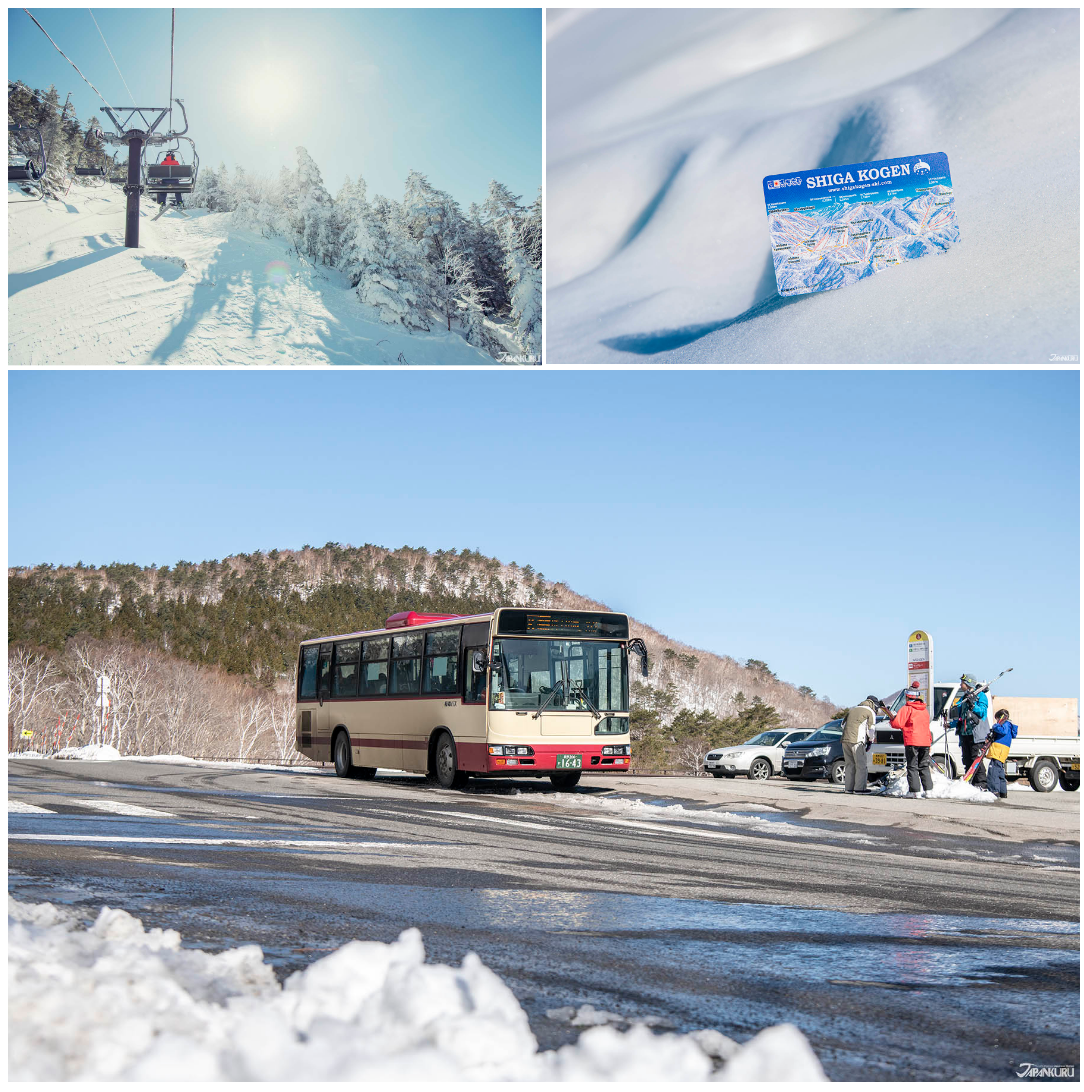 Access – Getting to Shiga Kogen in the First Place
Thanks to a direct bus from Nagano station, access to Shiga Kogen is pretty simple.
Tokyo Station
⇩
⇒ Hokuriku Shinkansen (Bullet Train) ⇒
⇩
Nagano Station
⇩
⇒ Direct Bus (West Exit Bus Stop #23) ⇒
⇩
Shiga Kogen Ski Resort!
Travelers starting in Tokyo, Nagoya, or Kanazawa have the easiest time getting to Shiga Kogen. One bullet train ride, one bus, and you're there. Travelers coming from places farther west don't have it too bad, though. From Osaka or Kyoto Stations, it just takes one extra trip on the Tokaido Shinkansen, transferring from either Nagoya Station or Tokyo.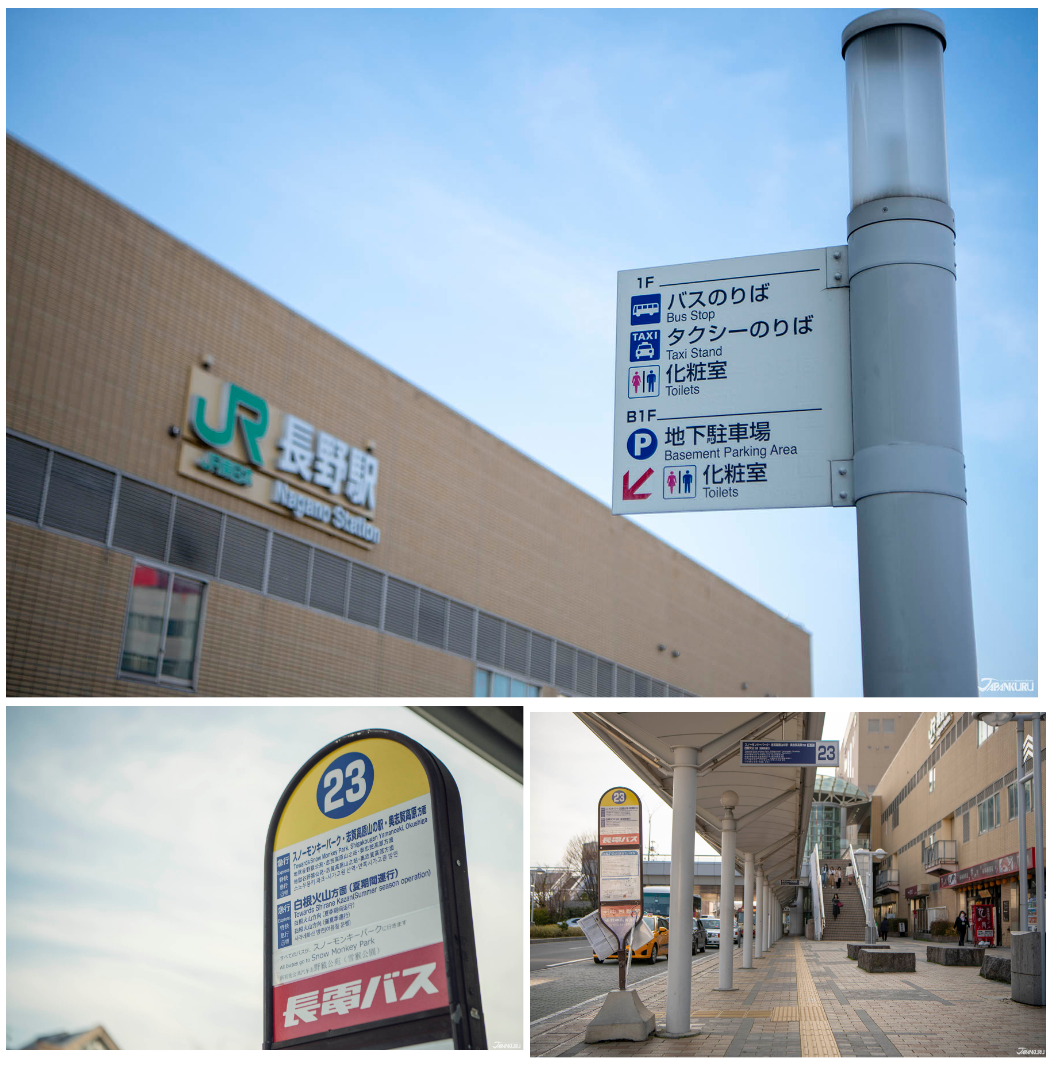 Before Heading Home, Visit the Onsen Monkeys Nearby
Jigokudani Yaen-Koen Monkey Park
Whether you've been doing some research on Shiga Kogen, or you just happened to notice one of the other major stops on the bus route to the ski resort, you've probably seen something or other about hot spring monkeys. That's right, there are monkeys living around Shiga Kogen, and they love natural hot spring baths! Just a short bus ride away is the Jigokudani Yaen-Koen Monkey Park, where the snow monkeys live, and a lovely hike through the woods will bring you to the steaming spring water pools where they soak away and groom their fur. Don't miss the babies!
Jigokudani Yaen-Koen Monkey Park (地獄谷野猿公苑)
6845 Yamanouchi-machi, Shimotakai-gun, Nagano
Official Website (en)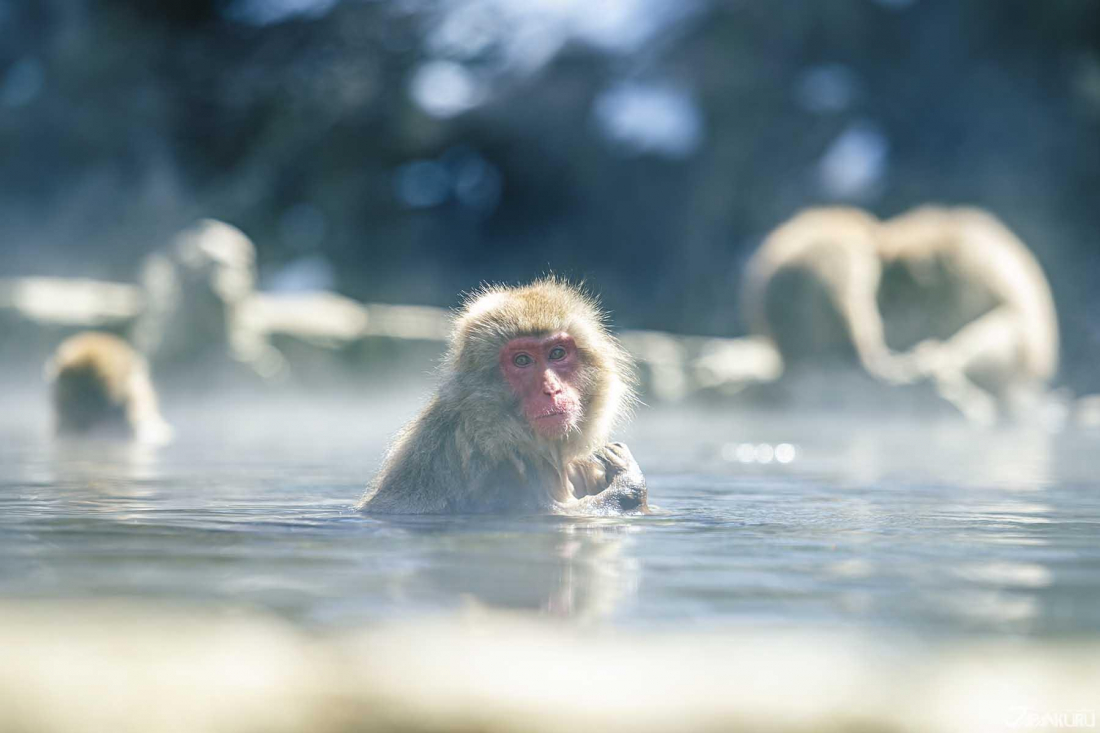 So, What Does Your Shiga Kogen Itinerary Look Like?
Which part of Shiga Kogen are you most excited about? The spectacular mountain views and snow-covered evergreens of Joshin'etsu-kogen National Park? The fluffy, dry Japan Powder snow that's so soft you'll want to dive right in? The 18 different ski areas and 16 different hotels? Let us know what you're looking forward to and what your plans look like, or shoot us a question if you have any, on the Japankuru twitter, instagram, and facebook!